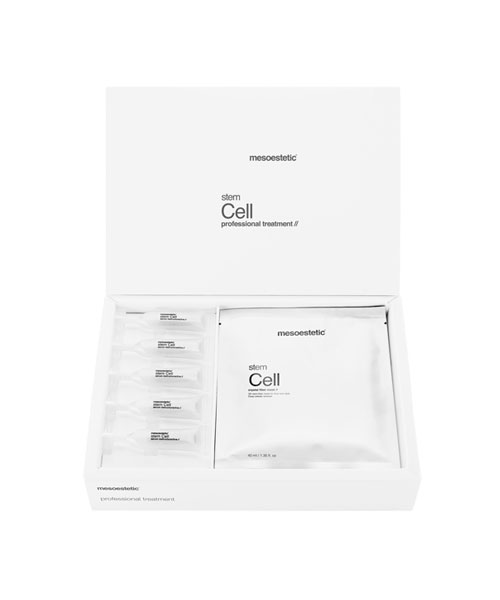 stem Cell
professional treatment
REGENERATIVE SOLUTION BY MESOESTETIC®
Simple, effective facial treatment that entails 5 sessions that combine highly renewing and repairing products with an exclusive regenerating massage technique.
Skin stem cells are the direct precursors of the new cells found in the different dermal layers. Over time, their activity slows down: the skin loses its capacity for renewal, leading to a loss of tone and the formation of deep wrinkles. stem Cell is a cosmeceutical line with high concentrations of plant stem cells designed to reverse the slowdown in cell regeneration, strengthening the skin's tissue structure and improving skin quality and texture.
What do sessions with energy C stem Cell
professional treatment entail?
1. Preparation of the skin
5 minutes
Cleanse and apply toner the face, neck and bust area with hydra milk cleanser and hydratonic.
2. Regenerating massage
20 minutes
Prepare the mixture for the massage by blending 3 pumps (6 ml) of facial massage cream with a single dose of stem Cell serum restructuractive.
Lightly warm the hands, distribute the product and begin performing the movements described in the regenerating massage protocol (20 minutes).
3. Intensification of the results
20 minutes
Remove the two pieces of the stem Cell crystal fiber mask First apply the piece corresponding to the face. Then extend the piece for the neck, adapting its placement to the anatomical form.
Allow it to work for 20 minutes.
4. Finishing
10 minutes
Perform another massage using one pump of facial massage cream until completely absorbed.
Finish up the treatment by applying moisturising sun protection.
5. Home maintenance
daily
Use stem Cell active growth factor for home maintenance of the results achieved in the salon.
Optional
Optional phases for intensifying the regenerating treatment
Electro-drainage: In order to promote tissue oxygenation, perform 10 minutes of electro-drainage using the mesodrainer system program 6: facial lift.
Radiofrequency + phototherapy: To intensify the regenerating effect, apply the photogen system, bipolar radiofrequency (10 minutes) and yellow + red + infrared LEDs (10 minutes).
Increased permeability: To eliminate excess dead cells, application of the contents of one ampoule of glycolic acid 10% + vit. E and F is recommended.
Electrophoroporation: For alterations that present greater complexity, application in alternating sessions of the electrophoroporation tmt system program 3 – total anti-aging is recommended.