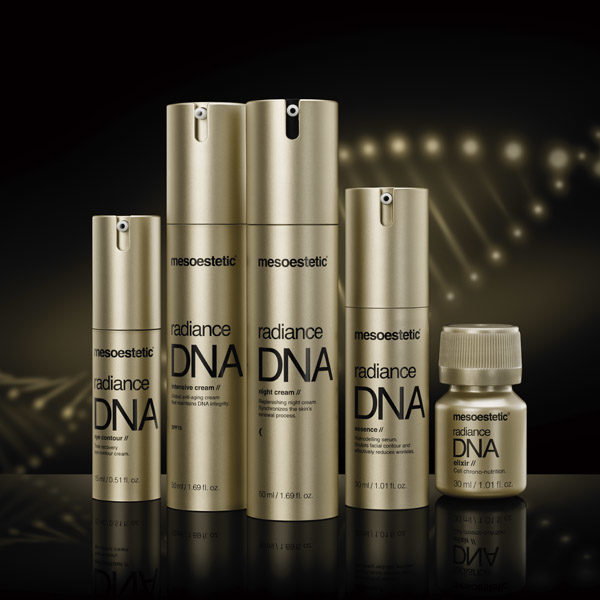 GLOBAL ANTI-AGING SOLUTION BY MESOESTETIC©
Global-acting anti-aging line designed to treat signs and symptoms characteristic of advanced aging. Protects and repairs cell DNA, preventing future damage and slowing down premature aging.
Skin DNA
DNA is the code containing all the information necessary for our cells to develop properly over time. In an optimal scenario, cells maintain a perfect balance between the activity and restorative periods and this enables them to recover from external aggressions and keep their metabolic functions in perfect condition. However, over time, oxidative stress and environmental factors, especially sun and free radicals, weaken the skin's internal mechanisms, damaging DNA and unbalancing the expression of certain genes that are essential in the fight against skin aging.
In order to keep your skin cells looking younger, mesoestetic® has created radiance DNA.
[meso]recovery complex® technology
The most advanced global anti-aging treatment from mesoestetic® includes the innovative [meso]recovery complex®, a unique combination of active ingredients especially selected for their antioxidant, protective and DNA repair-stimulating properties. Its exclusive technology is based on specific release biovectors, which are capable of carrying and releasing the complex of substances "unchanged" in the cell nucleus, ensuring unprecedented efficacy.
ADVANCED TECHNOLOGY
Encapsulates active ingredients to carry them to the deepest layers of skin.
In its composition and structure it mimics the cell membrane, increasing its levels of penetration and diffusion.
Has an effect on the skin surface, improving its appearance and feel.
Repairs and protects
Repairs and protects skin genome integrity. Stimulates the activity of the genes responsible for DNA repair and prevents future lesions, slowing down premature aging. Allows the genes involved in restoring damage to the double DNA helix to effectively coordinate cell metabolism. In doing so, it reduces damage caused by UV rays and improves tissue quality and appearance, preventing the onset of wrinkles.
Extends cell vitality and longevity
Reactivates cell regeneration and renewal in the basal layer of the epidermis, leading to increased keratinocyte production. Epidermal tissue becomes thicker, denser and more resistant to external aggressions.
Antioxidant action
Neutralizes free radicals, helping to improve the skin's self-defense mechanisms and slowing down the skin aging process.
Strengthens the extracellular matrix
Restores the dermoepidermal junction and stimulates fibroblasts to increase the quality and quantity of collagen and elastin. Skin elasticity and firmness is restored, face contours are redefined and deep-set wrinkles and expression lines are considerably reduced.
In vitro studies show that the combination of active ingredients contained in radiance DNA stimulates fibroblast proliferation.
Home Care
TAKE CARE OF YOURSELF AT HOME WITH RADIANCE DNA