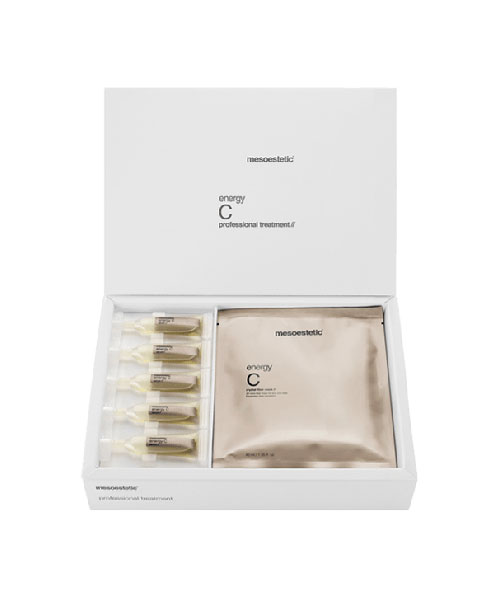 energy C
professional treatment
BRIGHTENING SOLUTION BY MESOESTETIC®
Simple, effective facial treatment consisting of 5 sessions. Provides clear results in the face and neck thanks to the combination of antioxidant and brightening products with an energizing massage technique.
Exposure to the sun, smoking, strict diets and stress causes the skin to oxidate and lose luminosity. With the passage of time, the face takes on a more "cardboard-like" look and the first wrinkles appear. energy C is a cosmeceutical line with high concentrations of vitamin C designed to combat the first signs of chrono- and photoaging.
What do sessions with energy C entail?
1. Preparation of the skin
5 minutes
Cleanse and apply toner the face, neck and bust area with hydra milk cleanser and hydratonic.
2. Energizing massage
15 minutes
Prepare the mixture for the massage by blending 3 pumps (6 mL) of facial massage cream with a single dose of energy C serum.
Lightly warm the hands, distribute the product and begin performing the movements described in the energizing massage protocol (15 minutes).
3. Intensification of the results
20 minutes
Remove the two pieces of the energy C crystal fiber mask First apply the piece corresponding to the face. Then extend the piece for the neck, adapting its placement to the anatomical form. Allow it to work for 20 minutes.
4. Finishing
10 minutes
Perform another massage using one pump of facial massage cream until completely absorbed.
Finish up the treatment by applying moisturising sun protection.
5. Home maintenance
Morning and night
The pack includes a vial of energy C intensive cream for home maintenance of the results achieved in the salon.
Discover other maintenance products to use at home that will help boost the effects of energy C until the next session:
energy C eye contour
energy C complex
Optional
Optional phases for intensifying the brightening treatment
Electro-drainage: In order to promote tissue oxygenation, perform 10 minutes of electro-drainage using the mesodrainer system program 5: facial lift.
Increased permeability: To eliminate excess dead cells, application of the contents of one ampoule of glycolic acid 10% + vit. E and F is recommended.
Electrophoroporation: For alterations that present greater complexity, application in alternating sessions with the electrophoroporation tmt system program 3: total anti-aging is recommended.