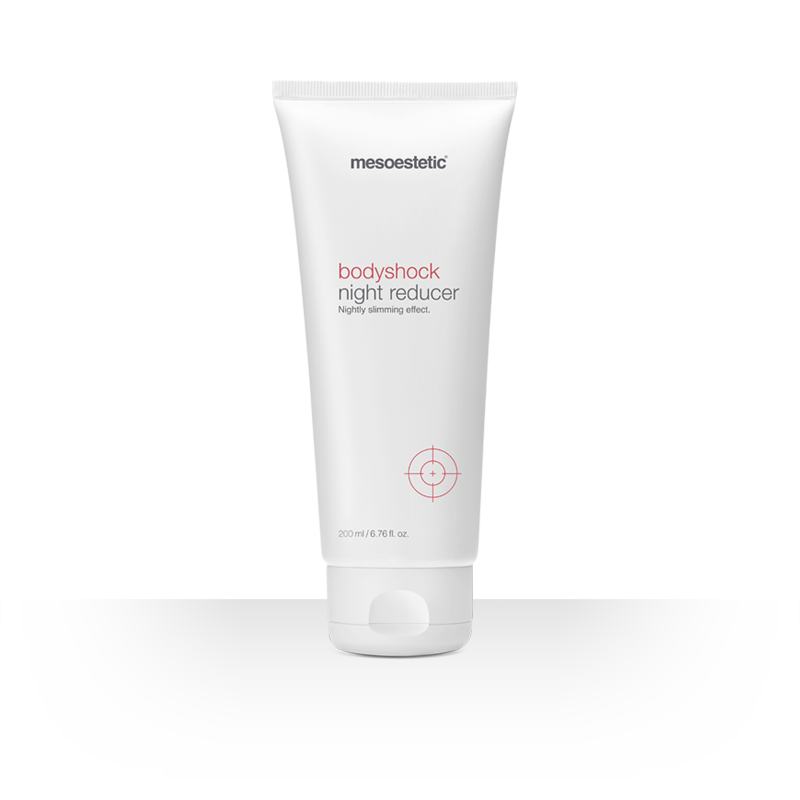 THE ULTIMATE TREATMENT FOR 6 SPECIFIC AREAS BY MESOESTETIC®
Night cream for decreasing localized fat deposits and facilitating drainage of excess fluids. Using this product in combination with the professional bodyshock treatment is recommended.
93% of women are concerned about their appearance and work to improve it. 78.2% of people consider caring for their physical appearance to be necessary even if requires some effort. Over 70% of the population has on some occasion felt bad about their body.
Details of bodyshock night reducer
Active ingredients
Plankton extract
Chlorella
L-Carnitine
The high concentration of L-carnitine helps to reduce adipocytes and fat accumulation.
Indications
Plankton extract takes advantage of the circadian rhythm and receptivity of the skin during rest to combat localized fat deposits and facilitate lymphatic drainage.
Instructions for use
Once a day before bedtime
The active ingredients in its formulation complement the products for professional use, ensuring increased effectiveness and better results. Given the importance of consistency in the treatment, use of bodyshock products for home maintenance is essential. Combining the two treatments is recommended from the first session.